Heating your home is a necessity, but that doesn't mean you have to rely solely on your furnace to stay comfortable while you are inside. While smart technology and innovative accessories have allowed many people to run a furnace more efficiently, there are alternative heating options that can provide you with superior results. 
Radiant flooring is a technique that has been used for thousands of years in order to keep an interior space warm and comfortable. While the radiant heat flooring that is available today is significantly different from what was used during ancient times, the concept of heating floors is still quite applicable in contemporary homes. 
What is Radiant Floor Heating? 
Radiant heating is a type of floor heating system that uses self-regulating carbon polymer heating technology underneath the flooring in order to heat the space. It is a very effective way to efficiently heat an entire room and maintain a regular, even temperature. Not only does floor radiant heat allow you to achieve the desired temperature in your room and feel completely comfortable inside your home, but it also is a sustainable option that reduces your need to rely on traditional central heating appliances, such as a furnace or a heat pump.
Where Can Heating Floors Be Installed? 
Heating floors can be installed in any room in the home. While bathroom radiant floor heating is quite popular, particularly among homeowners who only want a heating floor in one room, it's worth noting that this sustainable heating system can be installed in any room in the house. Best of all, the installation process is quick and simple — and you won't have to worry that there will be any damage done to your home during the installation.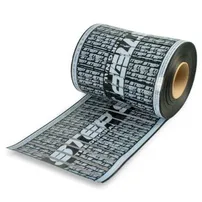 The Pros of Radiant Floor Heating Systems 
In floor heating is quickly becoming a more popular option among homeowners, particularly those who are looking to reduce their carbon footprint and minimize their energy consumption. Not only is radiant heat flooring a more sustainable option, but there also are many other advantages to investing in this type of heating system, such as:
Radiant floor heating maximizes your comfort in a given room by evenly distributing the heat. The coils that run through heating floors ensure that there is a uniform distribution of heat throughout the entire space. Conversely, a forced air system blows warm air into the room until a desired temperature is reached, and then stops. The result is hot and cold spots, making it difficult to achieve a consistent, comfortable temperature in your home.
A floor heating system is a convenient, maintenance-free option. The self-regulating carbon polymer heating technology that is used requires minimal maintenance, largely because no boilers or outside appliances are required in order to operate the flooring. This technology is thin and flexible — yet durable — and it cannot overheat, making it a safe and efficient option for heating your home.
Radiant flooring is an environmentally-friendly heating system. This type of floor heating system is created with 80 percent recycled materials and the manufacturing as well as installation process results in zero waste. In addition, the materials that are used to create this system are all biodegradable. 
In floor heating is better for your health than other traditional heating systems, such as a furnace. A forced air system, such as a furnace, blows air throughout the home in order to maintain the heat. It requires a system of vents in order to operate effectively, which means that you are often breathing the redistributed air that is being circulated in the house. This air contains dust, dirt and dander, and can result in upper-respiratory issues as well as allergic reactions. In floor heating does not distribute allergens throughout the house, and allows you to enjoy cleaner air while you are inside.
A radiant floor heater can easily be installed in your home. The installation process is completed by experienced professionals who understand how important it is to get the job done right and to take care of your home in the process. Our hassle-free installations result in no damage to your property.
Radiant floor heating systems are quiet and create virtually no noise when running. Many people complain about the noise that their furnace makes when it is running, and the low humming or buzzing of the furnace can be a distraction when you are trying to relax in your home. Radiant floor heating is a quiet alternative that most prefer.
Radiant heat flooring is created from durable, high-quality products. In addition to using long-lasting products that require little-to-no maintenance in the long-term, we also pride ourselves on the safety of in floor heating. The technology in this type of floor heating system is low voltage SELV rated, and the tubes that wind throughout the flooring will not leak or cause damage to your home.
A floor heating system offers greater design flexibility. There are no radiators attached to the wall to deal with or boilers to install. Rather, you can design a space that is going to be heated effectively and efficiently, allowing you to maximize your enjoyment of the room. In addition, you can achieve better zoning throughout the home when you install bathroom radiant floor heating as well as radiant floor heating in other rooms of the house. You can customize your heating experience and specify the temperature that you want to achieve in each space.
The Disadvantages of Radiant Floor Heating 
While there are many benefits to investing in a radiant flooring system, there always are disadvantages that must be considered. These are a few of the cons to having a radiant floor heating system installed in your home:
In floor heating can be difficult to retrofit, unless you are completing a home renovation or building a new construction property. While it may not be possible to retrofit floor heating to your existing floors, you can easily upgrade to this type of heating system when you purchase new floors. The heating floors can be installed simultaneously along with your beautiful new floors. If you are in the process of building a new home, you will find that radiant heat flooring is a popular option and an easy addition to the construction plans. 
The floor heating system may increase the height of your flooring. Generally, this is not a major concern, but it is one that homeowners should be aware of when they are selecting their flooring and investing in their in floor heating. In most cases, the floor height will only be elevated about half an inch, so it should not be too disruptive to the overall design and functionality of the room.
A floor heating system can be costly to install. However, most homeowners find that it is a worthwhile investment, as it reduces their energy consumption, increases the sustainability of their property and also allows them to be comfortable in their own home at all times.
Are Heated Floors Worth It? 
Ultimately, it's up to you to determine if heated floors are a worthwhile investment. We feel that heated floors are a beneficial option for homeowners that are searching for an alternative heating option — one that allows them to achieve uniformed heating throughout their home while also reducing the impact that they have on the environment. 
Heating floors have been around for thousands of years, but the latest advancements in technology have made them a trendy home improvement project. Due to the demand for radiant floor heating in homes, you may find that this upgrade to your home design will increase the value of your property and make it easier for you to sell in the future.
In the end, in floor heating may be the answer that you have been looking for all along. This heating system upgrade will allow you to enjoy your home to the fullest, and it will help you feel good about the methods you are using to feel warm and cozy while you are inside it. 
Find Out More About Heating Floors Today
In floor heating is the sustainable and effective heating solution that your home needs. To find out more about this affordable and sustainable option — and to learn about how simple it is to install heating floors — contact us today. We look forward to telling you more about how our innovative floor heating products can revolutionize your home. Not looking for radiant floor heating? Discover our other radiant heating products, like our wall and ceiling radiant heaters below: