Radiant floor heating is a heating system that utilizes a series of underfloor heating elements to heat an indoor space. This heating solution is not only effective, but it's also one of the most sustainable options on the market today. As this type of technology continues to increase in popularity, there are many homeowners that are starting to wonder what types of flooring work well with radiant floor heating. 
Fortunately, this heating system works effectively with most types of floors, but hardwood floors work especially well with radiant floor heating. Radiant heat wood floor technology uses not only electric heating elements to provide heat to a given space, but also the high-quality wood material to conduct the heat and maintain the desired temperature in the room.
Can You Put Heated Floors Under Hardwood?
The short answer is yes, absolutely! In fact, hardwood floors are in many ways the ideal option for heated floor boards. Not only does natural wood heat quickly — which is essential when you are investing in an underfloor heating system — but the properties of wood also ensure that heat is trapped and does not escape. Essentially, a heating wood floor system is going to provide you with fast yet long-lasting results.
Can You Put Heated Wood Floors Under Engineered Wood?
There are distinct differences between engineered wood and hardwood floors. For many valid reasons, engineered wood floors are gaining in popularity. Not only are these composite wood floors more resistant to water and less prone to damage, but they also are available in more colors and styles than natural hardwood floors. However, engineered wood floors may not be the best option for your heated floor boards.
Certain types of engineered wood floors have a tendency to swell over time, and as the shape of the floor boards change, your heated floor system could be compromised. If you are hoping to install a radiant flooring system under composite wood floors, you should reach out to your radiant floor contractor early in the process. Your contractor can provide you with expert recommendations as to which composite wood floors would be suitable for underfloor heating.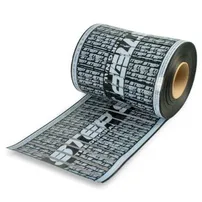 Choosing the Right Wood For Your Heated Hardwood Floors
While it is possible to retrofit a heated floor system to existing floors, most homeowners opt to invest in radiant heat wood floor when they are redesigning or renovating a space. If you are in the process of replacing the flooring in your home, this is the perfect time to consider installing heated wood floors. Not only will this ensure a smooth heating wood floor installation, but it also allows you to be thoughtful and purposeful as you select a specific type of wood for your new hardwood floors.
These tips can help you select the right wood material for your heated wood floors:
Keep in the mind the width-to-thickness ratio. Different types of wood are going to offer various widths and thickness measurements. You should choose a wood with a maximum thickness of 18mm, and width-to-thickness ratio of about 10. A ratio between 7 and 11 will be suitable for radiant heat under wood floors.
Wood floors are going to expand and contract in any room. The amount of movement in the floors depends on the type of wood as well as the conditions in the room. A warm, moist room, for example, will be more prone to expansion while a cold, dry room would make the wood condense. You are going to want to keep the conditions of your home as well as the natural properties of the wood you select in mind, particularly if you are planning to install a radiant floor heating system.
Some types of wood floors cannot exceed a maximum surface floor temperature. In the flooring industry, that maximum surface floor temperature is about 80 degrees Fahrenheit. In most cases, your radiant flooring system is not going to produce temperatures as high as 80 degrees Fahrenheit, but it's worth keeping this in mind as you select a specific type of wood for your flooring.
Select the Right Radiant Heat Wood Floor System
When installing radiant heat under wood floor, it's important that you select a premier radiant flooring system. You should choose a system that:
Uses low voltage electricity to deliver heat to the heating elements. At Green Wave Distribution, our innovative radiant flooring system is one of the few that utilizes low voltage electricity, and this safe technology is particularly important when you are installing the system under wood floors that may have maximum surface temperature restrictions.
Uses self-regulating carbon polymer heating technology. The Green Wave Distribution radiant heat system uses this type of technology, and its system is one of the most sustainable and efficient options in the industry. 
Improves the indoor air quality of the home. Given the fact that the radiant flooring system serves as a central heating solution, it prevents you from needing to use a furnace to heat your home. You will no longer have the dust, dirt and debris that typically circulates through an HVAC system threatening your indoor home environment. Beyond the fact that this type of system is better for your own health and well-being, it's also good for your wood floors. You will no longer have to worry about your wood floors being damaged or warped due to your reliance on a furnace or boiler.
Allows you to have more control over the overall design and functionality of your space. When you have heated hardwood floors, you don't have to allocate any space for external heating devices, such as radiators. Your room is once again a blank canvas, and you will have more freedom when it comes to completing the final look for the area.
The Green Wave Distribution radiant floor heating system is the ideal choice, particularly if you are looking to install radiant heat under your wood floor. It is the most effective and sustainable heating solution that will allow you to maximize your enjoyment of your home.
Why Should You Put Radiant Heat Under Wood Floor? 
There are many reasons why you should consider investing in a radiant heat wood floor system. These are just a few of the benefits of heated wood floors: 
Heated hardwood floors provide consistent, even heat distribution in a room. The wood is a natural heat conductor, and the material effectively traps heat. With this system installed, you will quickly reach the desired temperature in your room, and you will be able to maintain that temperature. 
Heated floor boards will reduce your overall heating costs. Its reliance on low-voltage electricity ensures that it costs less to operate this system. In addition, this is a maintenance-free heating solution, so you will spend less in repairs and upkeep over the course of its lifetime.
Radiant floor heating is one of the safest options when it comes to heating wood floor. There is virtually no risk of this technology overheating, so you will not have to be concerned about this heating system becoming a fire hazard in your home. It allows you to fully enjoy your beautiful wood floors and have peace of mind knowing that your home is being heated both safely and sustainably.
Hardwood floors and radiant floor heating are a winning combination. Not only will your new heated wood floor look gorgeous, but it also will allow you to enjoy a space that is warm, comfortable and inviting at all times. At Green Wave Distribution, we can help you create a customized radiant heat wood floor plan that will suit your personal lifestyle and help you achieve your sustainability goals.
For more information about heated floor boards and choosing the right radiant heat wood floor system for your home, contact Green Wave Distribution today.