Heated Bathroom Floors – How Much They Cost and How to Install?
Your bathroom should be a place that radiates with peace and tranquility — and you deserve to feel as comfortable as possible when you there. With a heated bathroom floor, you can step out of the tub onto a floor that is warm to the touch. It probably sounds like a feature that would be included in the most opulent of homes, but the reality is, heated floors in bathroom are possible for any homeowner, regardless of their budget.
When you understand what goes into your heated tile floor cost, then you will realize that this upgrade is an investment in your property and in your overall lifestyle.
Heated Bathroom Floor Cost: What You Need to Know
The cost of heated bathroom floor will vary based on a variety of factors. Your radiant floor heating contractor should provide you with an itemized estimate that helps you to understand the total heated bathroom floor cost in your home.
These are a few factors that may impact the cost of your heated floor in bathroom:
The size of your bathroom — The square footage of your bathroom will play a significant role in the total cost of your bathroom floor heater. Naturally, a smaller room is going to cost less to outfit with heated bathroom floors than a larger, more spacious bathroom.
The flooring material that you choose — The type of flooring that you choose will also impact the total cost of your project. Ceramic tile flooring and wood flooring may be more expensive than composite flooring. You will want to discuss your flooring materials with your contractor in order to determine what type of flooring will be best for your personal budget.
The radiant floor heating system that you select — Each radiant floor heating system is going to have different options available to you. One of the most affordable and valuable options is the flooring system offered by Green Wave Distribution, which includes an innovative self-regulating carbon polymer heating technology that is both flexible and durable.
Given the fact that the costs can vary greatly due to the size of the area and the type of materials that you are using for your home improvement project, it's important to work closely with a contractor in order to get the most accurate estimate of heated bathroom floor cost.
Installing Heated Bathroom Floors
It's easier than you think to install heated bathroom flooring. While the best time to install a heated bathroom floor is when you are doing a renovation project, it is possible to retrofit the radiant floor heating if necessary.
This how the installation process will look:
Tour heated flooring contractor will create a customized heated bathroom floor plan. Your contractor should be able to provide you with information about what type of radiant floor heating will work best and which flooring materials will best suit your needs.
The installation team will prepare the subfloor. The existing flooring must be removed, and the subfloor must be spotless. All debris, including nails and staples, must be removed from the subfloor before the heated bathroom floors can be installed.
The heating element will be tested in order to make sure that it is in good working order before it is installed.
The bathroom heated flooring will be installed by a qualified team of professionals who are familiar with the technology. Installers will work as quickly as possible, and they will take great care to ensure that no issues arise during the installation process.
A floor sensor will be installed so that you can control your heated floor in bathroom with your thermostat.
The heating element will once again be tested in order to be sure that it is working properly in the aftermath of the installation.
The floor materials will be installed on top of the radiant floor heating.
Finally, the thermostat that allows you to control the radiant floor heating will be installed, and you will be able to enjoy your new heated bathroom floors.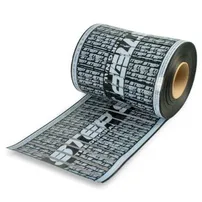 Why Heated Bathroom Flooring is a Sustainable Solution
Once your heated floors in bathroom have been installed, you will begin enjoying a luxurious lifestyle the likes of which you have never known before. When you step out of the shower in the early morning hours before you head into the office, you will feel a sense of relaxation as you touch your toes to the comforting tiles below. Not only will you feel good physically as you enjoy your heated bathroom floors, but you also will enjoy the peace of mind that comes with knowing you have opted for a sustainable heating solution for your bathroom.
Your bathroom floor heater relies on electricity in order to heat the tiles and the room, which makes it one of the most sustainable heating solutions for your home. Here is what you need to know about the sustainability of heated bathroom flooring:
Heated bathroom floors use innovative technology in order to deliver electrical heat to your flooring. At Green Wave Distribution, our radiant flooring uses self-regulating carbon polymer heating technology. It is the most efficient technology available for heated floors, and since it powered by low-voltage electricity, it is also the safest option for your bathroom.
Since heated bathroom floors do not rely on traditional heating appliances, such as a furnace, you will actually improve the air quality in your bathroom. There is no dust, dirt or dander being recirculated throughout your bathroom. 
At Green Wave Distribution, all of our radiant floor heating systems are created with recycled materials that are landfill biodegradable. We also pride ourselves on our zero-waste manufacturing process. 
Given the fact that a heated bathroom floor is actually a very eco-friendly upgrade for your home, you can opt for their luxurious amenity without worrying that you are choosing your own comfort over the protection of the world around you.
Choosing the Best Materials for Your Heated Floors in Bathroom
Once you know that you want to invest in heated bathroom floors, you will want to begin thinking about the type of flooring that you are going to install in your bathroom. The flooring that you choose will impact your heated tile floor cost, so it's important to consider your budget as well as your personal sense of style. 
Here are some tips to consider as you choose your flooring materials:
Work with your contractor to choose a flooring material that will maximize the efficiency of your radiant flooring. For example, wood flooring is a great option because it heats up quickly and retains the heat for a longer period of time. However, you may find that tile flooring is the best option for your bathroom because it is easier to maintain in an area that may get wet.
Ask your contractor about waterproofing your radiant floor heating system. Depending on the system that you choose, you may need to invest in additional features in order to protect it in an area where it may come into contact with water. 
Finally, select the flooring color and style that best complements your bathroom's new look. You don't have to compromise when it comes to style — your heated bathroom floor will work with nearly any flooring type.
Take the Next Step Toward a Heated Bathroom Floor Today
At Green Wave Distribution, we are considered the radiant floor heating experts. We can create a customized plan for heated bathroom floors in your home, and outline your approximate heated tile floor cost. Our innovative radiant floor heating solutions are designed to be both affordable and sustainable, giving you the opportunity to add a touch of luxury to your home without an ounce of guilt. 
For more information about your bathroom heated flooring options, contact Green Wave Distribution today.