Best Overall Infrared heating Panel
Most Economical Infrared Heating Panel
Best Infrared Space Panel Heater
How to Choose the Best Radiant Heat Panel for Your Home
Choosing the best-infrared heating panels will be influenced by various factors including the size of the rooms you are looking to heat, how you want the room to look, what sort of budget you are working with, what kind of insulation you have in your home, and which rooms you are looking to install them in (dining room vs bathroom, for example).
Some important considerations are
Heating Capacity

– check that the heating panel is powerful enough to heat your desired space (wattage/square footage).
Panel Size and Design

– are the size (dimensions) and style of the panel going to look right on the wall/ceiling you are considering?

Length of the Warranty – this varies significantly across heating panels (in our top ten alone there are panels with 2-year, 5-year, 10-year, 15-year, and lifetime warranties). A two or five-year warranty is fine for a space heater, but you probably want something longer if the radiant heating panel is going to be your primary home heating solution.
Installation

– Some panels require professional installation, while others can be easily mounted on walls or ceilings by homeowners. Ceiling-mounted panels, for example, may require a lot of work including requiring in your home.
Additionally, as well as the obvious things like price and energy efficiency, you may want to pay attention to the control (standard vs Wi-fi/Smart controls) and thermostat options.
ℹ️ Remember, 'Infrared' and 'Radiant' are used interchangeable. Usually dependant on where in the world you are.
The 10 Best Radiant Heating Panels
1. Herschel Inspire Picture Radiant Heat Panel
The Inspire Picture Radiant Heat Panel will complement any room in any type of home, and the fact that it can be customized with any image of your choosing is what puts it ahead of the pack. 
This heating panel is particularly well-suited to people for whom aesthetics and versatility of design are high priority, which is highly regarded across a range of reviews, as is this model's reliability and range of control with the Herschel MD2 thermostat. For us, it's the best infrared heater on the market.
The smallest Inspire Picture Radiant Heat Panel (250W/240V) measures 11.8″x23.6″ and is perfect for heating rooms between 32 – 52 sq. ft.
The Herschel Inspire Picture Radiant Heat Panel comes with 7 different power options/sizes up to the 1250W/240V Model which measures 23.6″x63″ and was designed to heat rooms between 183 and 312 square feet.
2. WarmlyYours Ember Glass Radiant Heat Panel
The WarmlyYours wall-mounted Ember Glass Heating Panel is another wall-mounted FIR (far infrared) heat panel with an impressive heat output of between 2,046 and 2,728 Btus per hour.
The Ember Range is widely reviewed as providing good warmth and completely silent operation, which is a big plus when compared to alternatives such as convection fan heaters. 
One drawback is the lack of an in-built thermostat, so you are limited to on/off, although this can be remedied by purchasing a remote thermostat.
The Ember is available in black or white:
3. Herschel Mirror Radiant Heat Panel
Herschel makes the list for a second time with their Mirror Radiant Heat Panel which works as a perfect aesthetic and functional addition to bathrooms, wet rooms, and bedrooms.
With their mirror radiant heat panel, you'll never struggle with a fogged-up bathroom mirror ever again. And the radiant heat will also prevent the build-up of condensation, meaning you never run the risk of having mold which bathrooms can be prone to. 
The mirror panel heaters are available in the same dimensions and at the same prices as the picture heating panels. 
The smallest Inspire Mirror Radiant Heat Panel (250W/240V) measures 11.8″x23.6″ and is perfect for heating rooms between 32 52 sq. ft.
The Herschel Mirror Radiant Heat Panel comes with 7 different power options/sizes up to the 1250W/240V Model which measures 23.6″x63″ and was designed to heat rooms between 183 and 312 square feet.
4. Ducoterra SolaRay Infrared Heating Panel
The SolarRay Infrared Heat panel is the first ceiling panel on our list, and it also happens to be the world's thinnest ceiling-mounted heating panel making it unobtrusive and easy to install. 
SolarRay panels are great space-savers and very effective in heating all kinds of rooms from home offices to yoga studios. 
In fact, this is one of the best-reviewed radiant panel heaters across a wide range of locations from physiotherapist treatment rooms to home basements with the comfortable, effective heat being consistently praised.
They come in 10 different sizes from 22.5"x22.52" (200W) to  22.5"x72" (1000W)  with prices ranging from $349.00 – $859.00
5. Herschel Black Radiant Space Panel Heater - 2600 Watts
The Herschel Black Radiant Space Panel Heater is one of the best space heaters going and is suitable for most indoor and sheltered outdoor spaces. 
They can either be wall mounted or hung from the ceiling offering another aesthetic alternative to ceiling-mounted panels.
This space heater panel also offers flexible heating options with two power settings and a timer giving you precise control over how you heat your home and with its 2.6kW Herschel Kanthal elements, it delivers efficient warmth with real efficiency and comfort.
It also comes in white, at the same price point.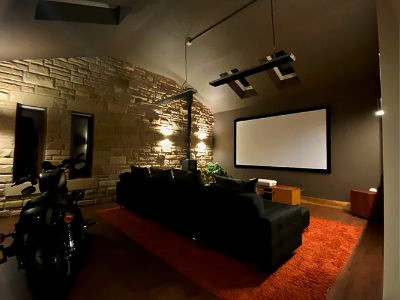 6. Technotherm ISP Design Glass Infrared Heating Panels - Black 690mm
Technotherm's ISP Design Glass Infrared Heating Panel is a Wi-Fi enabled, plug and play infrared panel that uses heat mat technology not dissimilar to that of Herschel panel heaters, meaning it's great tech for heating with a fantastic look.
Whilst you can control these heating panels with your chosen internet-enabled device, in order for that to work Technorthern have made it a requirement for you to also buy their TPF-Eco Radio Frequency Thermostat as an additional expense. 
There's not much to dislike about this product, but not including a necessary piece of apparatus as part of your initial purchase is a clear negative.
Technorthern's glass heating panels are available in both black and white and are available in 5 different sizes ranging from 350W (600mm x 600mm x 15mm) to 1250W (1800mm x 600mm x 15mm)
Price: Prices will vary depending on the retailer but for the 350W model you will probably looking at an equivalent of $500 with the largest 1250W somewhere in the region of $1100-$1300.
7. SunWay SWH Radiant Hybrid Heat Panel
Sunway's SWH range of heat panels is a hybrid system offering a combination of infrared, radiant heat, and convection heat. 
Because they use a combination of heating technologies they are much cheaper than other infrared panel heaters whilst still offering rapid, efficient heating to your chosen space.
SWH heat panels can be either mounted on a wall or free-standing with a wheeled base for greater flexibility of use. They are available in three different sizes:
400W – (800x370x15mm) – suitable for heating rooms up to 75 sq. ft.
700W – (1100x470x15mm) – suitable for heating rooms up to 130 sq. ft
1000W – (1200x570x15mm) – suitable for heating rooms up to 172 sq. ft.
8. Project Curv Tall Radiant Glass Heater
Project Curv joins our list with the first tall infrared heating panel.
As you will have noticed the majority of heating panels tend to stick with typical landscape dimensions, which can get a little samey. 
Project Curv throws in a curve ball to that lack of design options by offering a different aesthetic while still creating warm, ambient rooms.
We've heard a number of reports of Project Curve panels being used to replace a whole conventional gas-boiler central heating system (in conjunction with separate water heating sources such as Air Sourced Hot Water Cylinders).
On the downside, we've also heard of issues with the Smart Controls (CÜRV smart app, CÜRV thermostat, or Amazon Alexa & Google Play) as the primary negative, although this doesn;t appear to be too wide spread.
The Curv Tall model is available in either ocean white or graphite gray and comes in a single size: 650W – (1800x350mm) – suitable for heating rooms up to 108 sq. ft.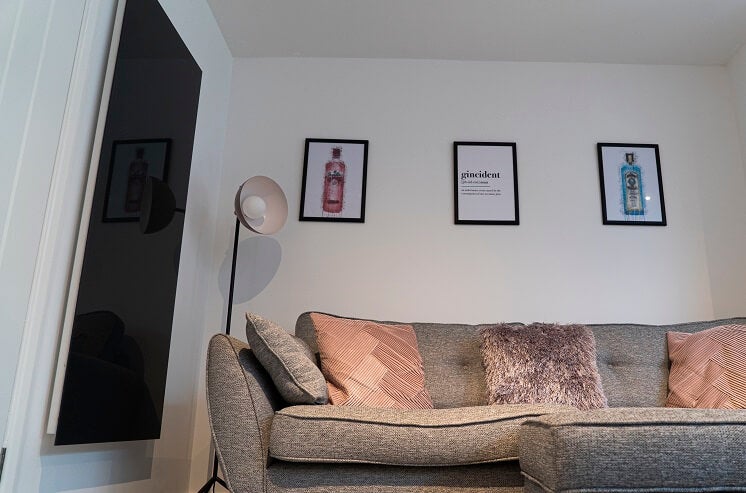 9. Cozy Legs New & Improved - The Best Radiant Space Heater
Cozy Legs New & Improved is our second hybrid Infrared and convection heating panel which we've included for its specific function. 
As the name would suggest, the Cozy Legs has been built to be placed under (or on top of) a desk to provide efficient, effective heating in a small space at a very low cost. 
It's a great, very affordable option for when you need warmth in your office or watching television but don't want or need to turn on the heating for the entire room (let alone the entire house). 
Cozy Legs uses just 200 watts – 87% less energy than a traditional 1,500-watt space heater and, combined with a price tag of under $80, is why it's our pick for the best radiant space heater.
Price $77.75
Dimensions: 18.98″ x 12.01" x 0.63″
10. Kiasa Heating - 350W Smart WiFi Infrared Heating Panel
The Kiasa Heating 350W heating panel makes our top ten due to its instant heating, versatility, and smart control functionality at a very reasonable price point.
The Kiasa 350 can be installed in bathrooms, and wet rooms, as well as dry rooms. It can be wall-mounted, fixed to ceilings, or free-standing.
It is Wi-Fi enabled with an easy-to-use thermostat and smart controls on your phone or other mobile devices. 
In short, it offers great flexibility in heating any room in your home up to 110 sq. ft.
Price £138.74
Dimensions: 60 x 60 x 2.2cm
Radiant heating panels are among some of the best electrical heating systems you can install in your home. 
Infrared, radiant heating solutions are going to be at the forefront of the global shift away from fossil-fuel heating systems to sustainable energy sources. 
They are also better for your health, and more energy efficient, in addition to being a cost-effective way to achieve net zero in both homes and places of work. 
And the move to renewable electric heating is going to happen. California has already banned gas-powered water and space heaters as of 2030 and other states will soon follow suit, with the likelihood of federal legislation increasingly probable.
There are many reasons to consider installing infrared heating in your home, but if you're not sure whether it is viable for your own property, or you are unsure of what infrared/radiant heating system would be best, please do get in touch. We'd love to talk through your requirements and come up with the perfect solution.